How A #GirlDad Like Kobe Bryant Helps Girls Defend Against SexTraffickers
We were all in shock and saddened to learn Kobe Bryant; the 41-year-old NBA legend had died in a helicopter crash on Sunday morning. Our hearts sank a little further when it was confirmed a few hours later that the tragic accident claimed the life of his beloved 13-year-old daughter, Gigi.
As tributes poured in and people shared stories of Kobe's legendary status on the basketball court, what was equally impressive was his legendary status as a father.
Kobe Bryant was father to four girls and when Ellen Duncan, Sports Commentator, reflected on her only encounter with the Basketball Legend--while eighth months pregnant herself, you can understand why Kobe's stats as a father outweighed his stats on the court.
During the encounter, when Kobe learned Ellen was having a girl, Kobe said, "girls are the best. Be grateful you have been given that gift because girls are amazing! My wife [Vanessa} wants to try for a boy [they had three girls at the time], but she's afraid we would have another girl. I would have five more girls if I could. I'm a #GirlDad!" Kobe went on to tell Ellen that his middle daughter Gigi "was a beast [in basketball]. She is better than I was at her age. She's got it."
At the end of Ellen's tribute, she called Kobe a #GirlDad. A huge smile came across my face when I heard her say it because I know that a #GirlDad is what all girls need. I was glad to hear that Gigi and her sisters had the experience of growing up with a dad who knew in his heart that girls were amazing gifts!
Girl dads are fathers and father figures who see girls as precious gifts to be cherished, loved, and adored, and this love is what builds a strong sense of identity, self-esteem, value, and self-worth in girls. Girl dads are men who understand the investment that must be made in young girls. This investment is so needed for girls to not only survive but thrive in a world where #MeToo and #SexTrafficking predators await them.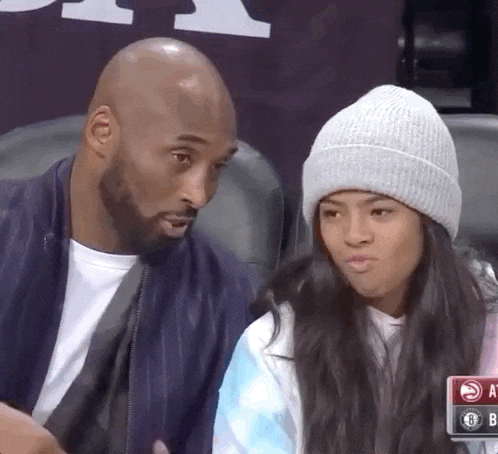 In a world, and particularly in America where sex trafficking is a multi-billion dollar annual industry built on the backs of teens and tweens, girl dads are needed--especially for girls of color. Gigi and her sisters were blessed and fortunate, as black girls, to have had a dad to see them as amazing gifts. Unfortunately, not all men see girls this way. Some men [and women} see girls as a commodity to be sold. So a #GirlDad like Kobe can significantly reduce his daughter's chances of falling victim to the manipulating tactics traffickers use.
Black girls are disproportionately victimized by Sex Trafficking. Black girls make up 14% of the population in America, but they account for 60-70% of all Sex Trafficking Victims. And the best, front-line defense against trafficking that black girls have is a healthy sense of self-love, worth, and value. In the fight against trafficking, it is critical that black girls are just as convinced of their worth and value as traffickers are. Traffickers see value in girls and they seek to exploit it.
Sex Trafficking is a multi-billion dollar industry because traffickers prey on vulnerable girls who have not been convinced of how fearfully and wonderfully they are made. Girls who are not convinced of their worth and value become easy prey in a society where there is an increasing demand for sex with girls--black girls. The average man and the powerful men like billionaire Jeffrey Epstein and Robert Kraft, owner of the New England Patriots, represent this growing demand. They also represent the majority of those who buy girls who are white men.
Sex Trafficking is devastating the lives of girls in every state across America, and we need more men to take up the mantle of being a #GirlDad so all girls will have the same odds of not becoming victims of Sex Trafficking as Kobe Bryant's daughters.
Remembering the legacy of Kobe Bryant will be half stated without remembering his legacy as a dad--a #GirlDad. The legacy Kobe leaves for men is not just his stats as a star athlete, he leaves a reminder of the privileged opportunity God has afforded men when they are blessed with the gift of a girl child.
Kobe became a #GirlDad when his gifts arrived, and unfortunately, he departed this life with one of those precious gifts. But I'm pretty confident that the Gift-Giver said to him, "well done! you were faithful over a few things." Gigi standing next to him was all the evidence God needed!
Kobe understood his role in shaping and empowering the gifts God entrusted to him, and his remaining girls will reap the benefits for the rest of their lives.
I continue to send my prayers to Kobe's wife and his three remaining daughters.
Sincerely,
Dr. Vanetta R. Rather